Well hello friends!
I thought i would post on of my favorite mix media Fashion illustrations i've done. it's called "Girls In Glasses" and it's inspired by Chanel Spring RTW 2007 collection. As the models came walking out on the runway. The glasses stood out to me first. So that is when the concept for this piece was born. I hope you like it. :)
This is a drawing i did tonight of a girl from Sweden named, Emma Arvida Elisabeth Byström. she was kind enough to post some of my work on her blog today. Which is the first time anyone has every featured my work. :) This is the First portrait of my new Blogger Portrait Series.
The Picture below are of my friends stacy and Sophie & Gemma Ward.
This is a picture i did for my friend Stacy Dupree. I drew her as a siren for inspiration...
This Drawing is number #49 out of my Character Sketchbook. It is of Model Lily Cole. You can check out more from this series here. :)
this is a little something i made a little while back. it took me 11 days and 152 hours.
it's 6ft by 5ft and 1ft deepi designed the clothes and used all different and real fabrics, and the rest of it is made out of recycled cardboard.let me know what you think. :) oh yea and it's out a scene out of a story i'm working on in my head.
If want to see a short minute long documentary on the process Click here and enjoy.
well today was kinda a wierd day and spent it really tired. i've been working alot.
but today i did my first sketch for this up coming project i'm doing. it is super sloppy, and i was just goofing around hope you like it. for more info on the siren project i reposted the write on it from Paper Castle Press web site
"The Siren Who Loved by Danny Roberts, Sophie Ward and Stacey Dupree. The Siren project is a collaborative begun by Roberts, based in Los Angeles. Roberts illustrations have provided the foundation of inspiration for this haunting love story about a man driven across the ocean for the hand of a deadly and yet illustrious woman. The project is built out of multiple and varied artistic contributions, all building towards a final installation which will take the spectator on the journey of the story through Roberts' choice of imagery, Duprees audio and Ward's written word. Upon completion The Siren will be printed in its full entirety by Paper Castle Press."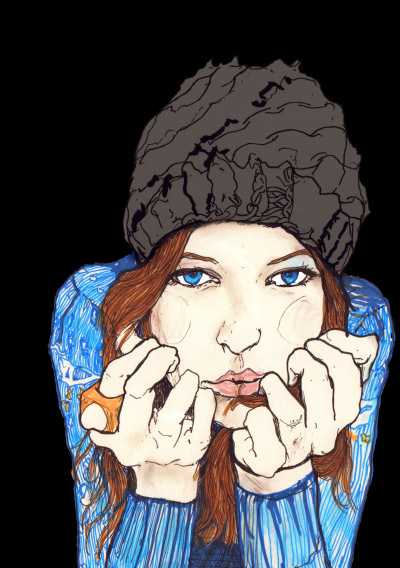 hey every buddy, it's been a while since my last post. been working really hard on finishing up this book.
I got some really fun projects coming up with the likes of miss Sophie Ward and Stacy King. i think it should be pretty awesome if everything comes together.
i wanted to post a drawing i did tonight as practice, cause i've been slacking on practicing lately.
hope you like it.
About a year ago I drew a thumbnail sketch of 5 girls laying on their backs. The concept for the picture was that I wanted it to have dynamic composition and be interesting from every angle. Once I finished the thumbnail, I set it aside for another time. Then a few months ago, I decided to illustrate Christian Dior's couture collection, and that thumbnail sketch was the perfect framework for the clothes. For three days straight I worked on the picture. It was 30″ X 40″ on illustration board. I used brushed ink and ink pens. I know I have already posted this picture in my Fashion Book, but I actually have 2 versions of this illustration. The original version is almost completely black and white, and the final is colored digitally. I actually mailed the original to Paris to The House of Dior two days after I finished. Still haven't heard anything back from them… maybe someday. haha
In June 2007 Simon Ungless, Director of Graduate Fashion at the Academy of Art, asked me to illustrate the School of Fashion's Lookbook for New York Mercedes-Benz Fashion Week. I jumped with excitement at the offer. I worked night and day through the month of July producing one drawing a day for it. So yeah, this is my first Lookbook I've ever done. Hope yawl enjoy it.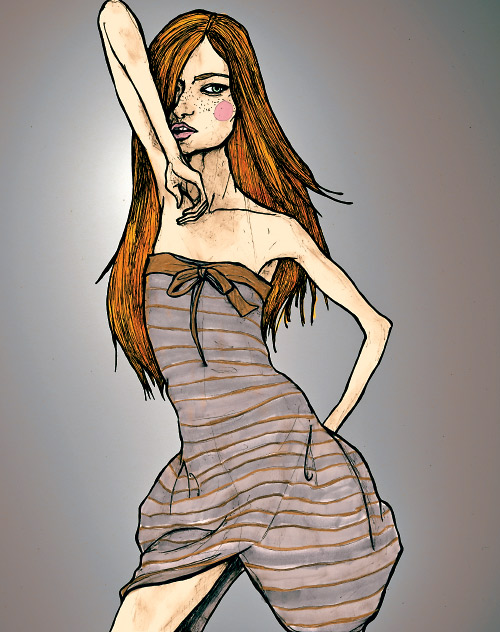 In February 2006 I had an idea to create a world and characters that would represent Alexander McQueen's Designs. I looked through all his runway shows from over the years, and picked out 12 outfits for the picture. After playing around with a few sketches, I decided to build the world as a sort of 3D/2D Layered Art Piece. I used all sorts of different papers and recycled cardboard. The final dimensions of it are 46 inches long by 26 inches high and 6 inches deep. I think I still have some of the early concept sketches. If I do I'll post it up here. I hope you like it.