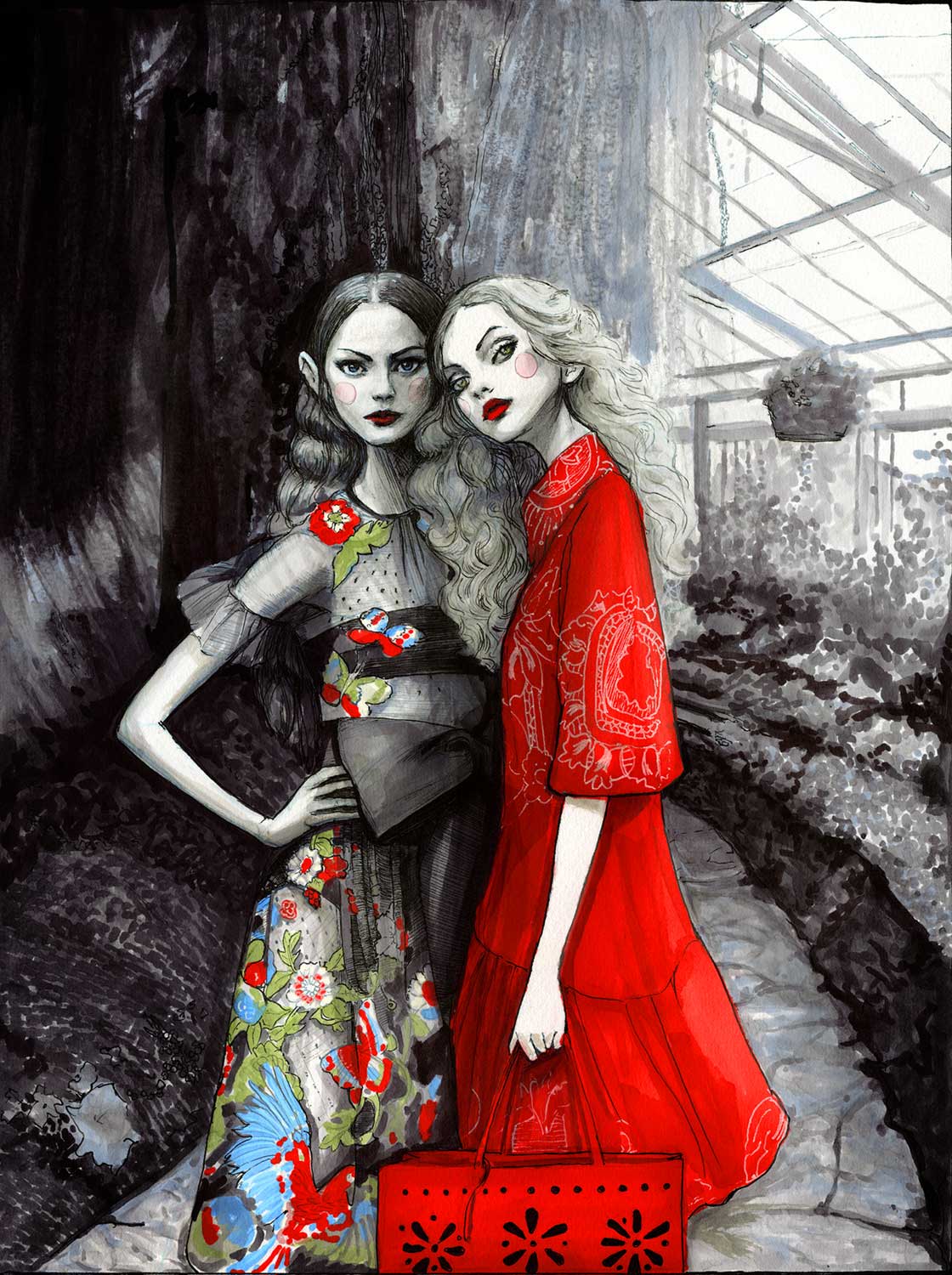 What happens when you take REDValentino's Spring 2020 collection, as well as old Vogues, and sprinkle some manga in there… Well, I guess this Fashion Illustration is born. I had been working on writing my first manga, "Lost in the Crowd", when Fashion Week rolled around, so I think they merged a little. This was the first collection of the season that I saw, and I was instantly drawn in by the garments' silhouettes and the setting. It reminded me of a tucked away little garden. Ever since I was a kid and first saw the movie "The Secret Garden", the concept of hidden gardens and hidden spaces has fascinated me. I think that is why in every concept sketch I did for this piece, I kept coming back to this garden setting. The illustration was with pen, ink, and water color. It also feature two of my favorite models, Heather Marks & Lisa Cant.
While doing research for "Lost in the Crowd", I've been reading a handful of different mangas. I've been blown away and massively inspired by Mangaka's control of value and tone, which made me lean toward a simplified, almost block print style coloring. Thank you to all who have been following along with my Instagram Story over the 3-4 days. I'm blown away and touched by all your kind DMs and comments. It means a lot to me. Thank you 🙏. I will have a few process/timelapse videos of this piece coming out soon. Just need to start editing them. I'm really happy with how it turned out. What do you think?
I added a limited edition print of this piece called "Secret Garden" to my new store.  Also, added the original to the store; it's called "Red Garden".  I'm super excited about both the print and the original. They are really beautiful to see in person :). The prints and the original are Seasonal, which means they will only be publicly available until October 13th. Click the titles to go to the store.