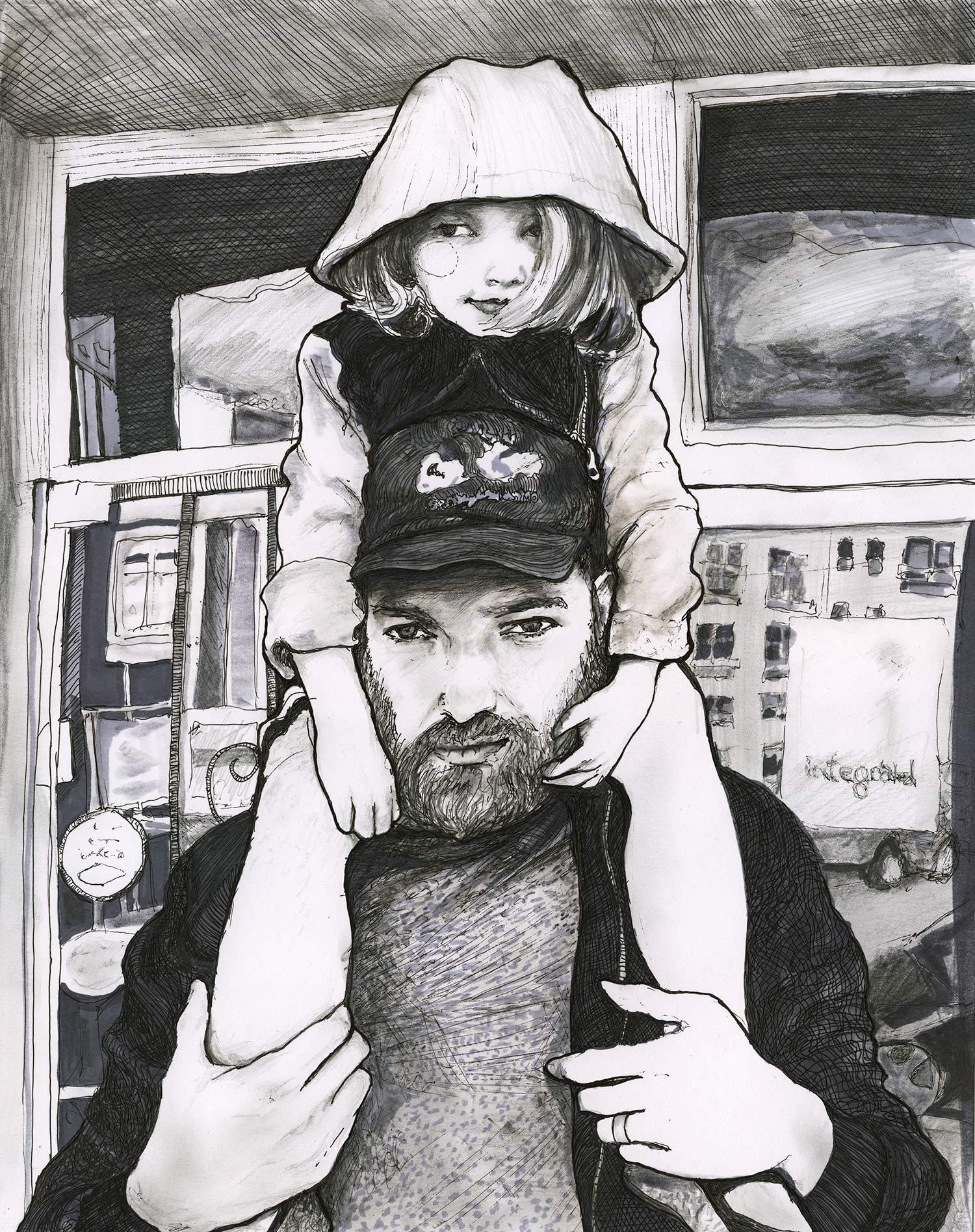 I did this illustration of amazing Musician/Drummer and Friend, Darren King and his daughter Scarlett. I met Darren years ago through his wife Stacy, and have been friends ever since. I don't know what it is, but sometimes it's as though the picture draws itself, and other times it's like I can never get the picture right no matter how many times I try. Do you know what I mean? Does that ever happen to you? This illustration was one that illustrated itself. The moment I saw it, I started drawing it, and from the first line, the texture and the tones came out exactly how I pictured them. You can check out Darren on Instagram.
P.S. I got all the Art up for the next few months! My art store is seasonal meaning a piece will only be up in the store for a few months, then a whole new set of Prints, Limited Edition, and Originals will replace it. :) Check it out and let me know what you think, and which ones are your favorites ;) Also, I'm about a week away from finally launching something I've been working on for the last six months. I can't wait to share it with you :)


So for a while now my family has been telling me to post some of my older drawings and rough drawings that i have never posted. So every now and then, i'm going to post some really old drawings. The drawing today is one i did back in 2007 for a friend of a friend's band t-shirt. I've always liked this drawing. There is something about 1930's nurses that are so classic, i love it. I hope you like it.
Book update: Up to 192 pages in the book! ;)
How's your day/night going? Ours has been pretty fun. I found this crazy text-to-speech software that reads whatever you type. And my brother and parents and I sat around and had the computer read the first few chapters of our book back to us. It was such a surreal feeling to hear another voice reading our book, albeit a computer voice, but it was awesome. One of my life time goals is to have Jim Dale be the reader of our book's book on tape. Have you ever heard him read? He's incredible and Dave and I agree we must find a way for him to be our reader. I'm going to put in a few more hours tonight to try to finish the 6th chapter. I thought in honor of possibly finishing the chapter tonight, i would post a drawing from the story. :) This drawing is a map i made a few months ago of a place in our stories called the Forgotten City. When i was first designing the city, I 3D modeled the the landscape for inspiration. It helped so much for when i was designing the city. I really hope you like it. I can't wait for you all to read the stories. ;)