Good Morning! Well my painting today is the second one i did for Sundance Channel's Full frontal Fashion, and it's from Andy & Debb Spring 2011 from NYFW. This was a Show I was Fortunate enough to get to take pictures back stage and during the show (which i will post soon i promise :) And the Lovely Girl wearing the dress is a girl named Rashelle Osbourne of Trump Models. She really stood out to me at the show, and seemed really nice and had a great smile. All and all i really loved the collection the cuts were great and the color pallet of the show was perfect. It was up there as one of the best shows I attended this last Fashion Week. Welp, off to paint some more! I hope you like the painting :) P.S. Sorry for lack of comments back and posts lately I've been buried with work, but I'm hoping to slowing things down so I can have more time to respond back and all. Just wanted to let yawl know i Read everything and i really appreciate all your kind words :)
Well friends, how was your weekend? Mine was great. I've been loving the weather in Southern California lately! It's been amazing. Sooooooo the painting today is my first of 5 painting I did for Sundance Channel's Full Frontal Fashion. Each Season I get to pick my top 5 favorite Collections from New York Fashion Week to paint for them.
The Painting today is From Anna Sui Spring 2011 Collection. This is the painting that i was tweeting about non stop a few weeks ago and saying how it was taking way too long! Haha it took what seemed like forever, but I really really like how it turned out. It has the exact vibe i was shooting for. Well, I really hope you like it, and I hope your having a great night. :)
Well My friends I finished this painting! I was getting scared i wouldn't finish this in time to post it today. The painting today is of New Zealand model Grace Hollows. I have to say she was in two shows that Iwas at and she was one of my favorites. She had a great genuine smile so i thought i would Paint her as my first from the shows I attended. The Painting is of a picture i took of her at Rachel Antonoff Spring 2011 collection. I hope you like it!
Hey hey hey friends! How's your weekend going? Mine has been amazing! First weekend off in 6 or 7 weeks… oh my… i've been tired…. The painting today is the one i did for the W Hotel Bags. The Painting is from a picture i took at the Siki Im Fall 2010 Collection last NYFW. i love the paper hats, so so so amazing :) Well sure hope you like it. Hope you're having a great weekend.
Hey hey hey! Oh, ok so completely forgot to tell you all! I designed a dress for Caravan and it made it's debut in Elle Style 360 Fashion Show for Bobi, Caravan girl, and Boy Meets Girl. I will post picture of the dresses (two versions of it) really soon. But first i thought i would post my design sketches i did for the dress. I really hope you like it! Hope you are having a great night :)
Aurelia Schwarz in Rachel Antonoff Spring 2011 presentation.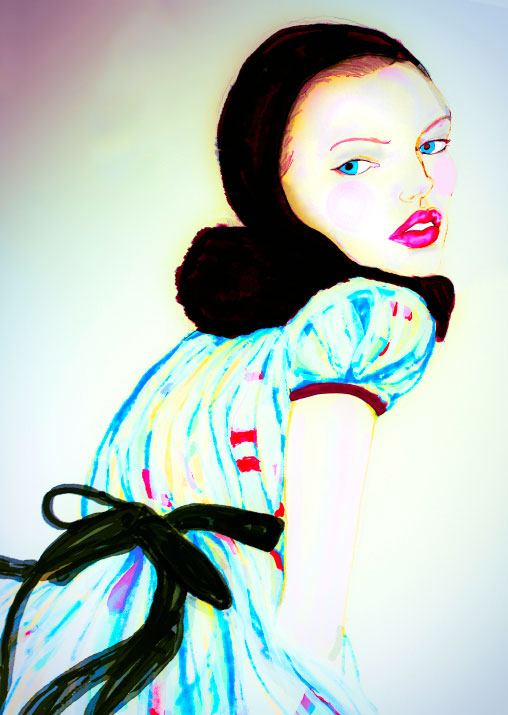 Hey, hey, hey, My friends! How's your weekend? I'm really Excited to show you this painting I did this weekend. It's inspired by the Junko Shimada Collection from Paris Fashion Week Fall 2009. I really like how it turned out. I don't have a name for this girl character, but she is a story waiting to happen don't you think? ;) Well, I really hope you like it! :)
Well my friends! How are you doing this week? Well this weekend, i bought a bunch of new art supplies i've never tried before, so this was my first little experiment with them. I have hundreds of pictures that i took at the Chris Benz Collection last Fashion Week. So i thought, why not paint another one of those pictures :) The Profile is of the Elite's lovely Masha Kirsanova, but I'm not sure who the girl in the black hood is. I really like how the it turned out :) How are you doing? Are yawl excited about your school finishing up?
Why, hello, friends! How was your weekend? My weekend was wonderful! Went to the beach a few times, Which was amazing! It's been way too long since i've been at the beach. And spent the better part of today writing music with my friend Sean Cimino. Can't wait for you to hear the song! :) Well, the painting today is the last picture i did for Sundance Channel's Full Frontal Fashion. The clothes are from the Chris Benz Fall 2010 collection. As i have already talked at length of how much i loved Chris Benz's Collection, this is the first of many paintings to come from the collection, I really hope you like it :)